Extraordinary people represent our best asset. As an employee, you will be encouraged to grow personally and develop your skills and abilities so that you can achieve success, become a retirement industry technical expert, and make complex pension concepts simple for our clients.
Communication
We seek to create understanding with others.
Accountability
Accept responsibility for our own actions.
Empathy
We seek to understand and appreciate the world of others.
Sacrifice
Share each other's burdens.
Retirement Plan
A great 401(k) plan: ours! Our 401(k) includes a Safe Harbor Non-Elective Contribution of 3% and Discretionary Profit-Sharing Contribution of 2%.
Health, Dental, and Vision Insurance
Health, dental, and vision, with premiums 75% covered by Trinity and no spousal surcharges.
Paid Time Off (PTO)
Generous PTO policy.
PTO Purchase
Option to purchase one additional week of PTO elected in December for the following calendar year.
Health Savings Account
Employer contributions occur twice per calendar year.
Short/Long-Term Disability Insurance
Long-term disability 100% covered by Trinity. Voluntary Short-term disability paid by the employee
Life Insurance
Group Term Life 100% covered by Trinity.  Voluntary employee, spouse, and/or child life paid by the employee.
Payday
Payday is the 15th and last working day of each month. Automatic direct deposit of paychecks is required.
Holidays
Trinity provides 11 paid holidays, including the Friday before Labor Day and the Friday before Memorial Day.
Summer Fridays
A half-workday on Fridays, Memorial Day through Labor Day.
Career Pathway
Individualized career pathway and career development plan.
Professional Society Membership
Annual membership dues for ASPPA or field-relevant membership paid by Trinity.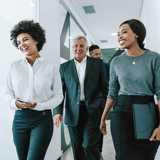 About Us
Our Headquarters
Located in Akron, Ohio – 30 minutes south of Cleveland and 30 minutes north of Canton – our headquarters is the hub of the Trinity community.
Our Interview and Onboarding Process
Communication is a cultural value. In-person communication is our preferred method of communication, which is why interviews are conducted in a live format via telephone, in-person, or video conference. Once hired, new employees participate in a highly interactive onboarding and training process both in-person and virtually.
Contact Our Hiring Team
Human Resources
hrtrinity@trinitypension.com
330.668.3747 ext. 200 or 236